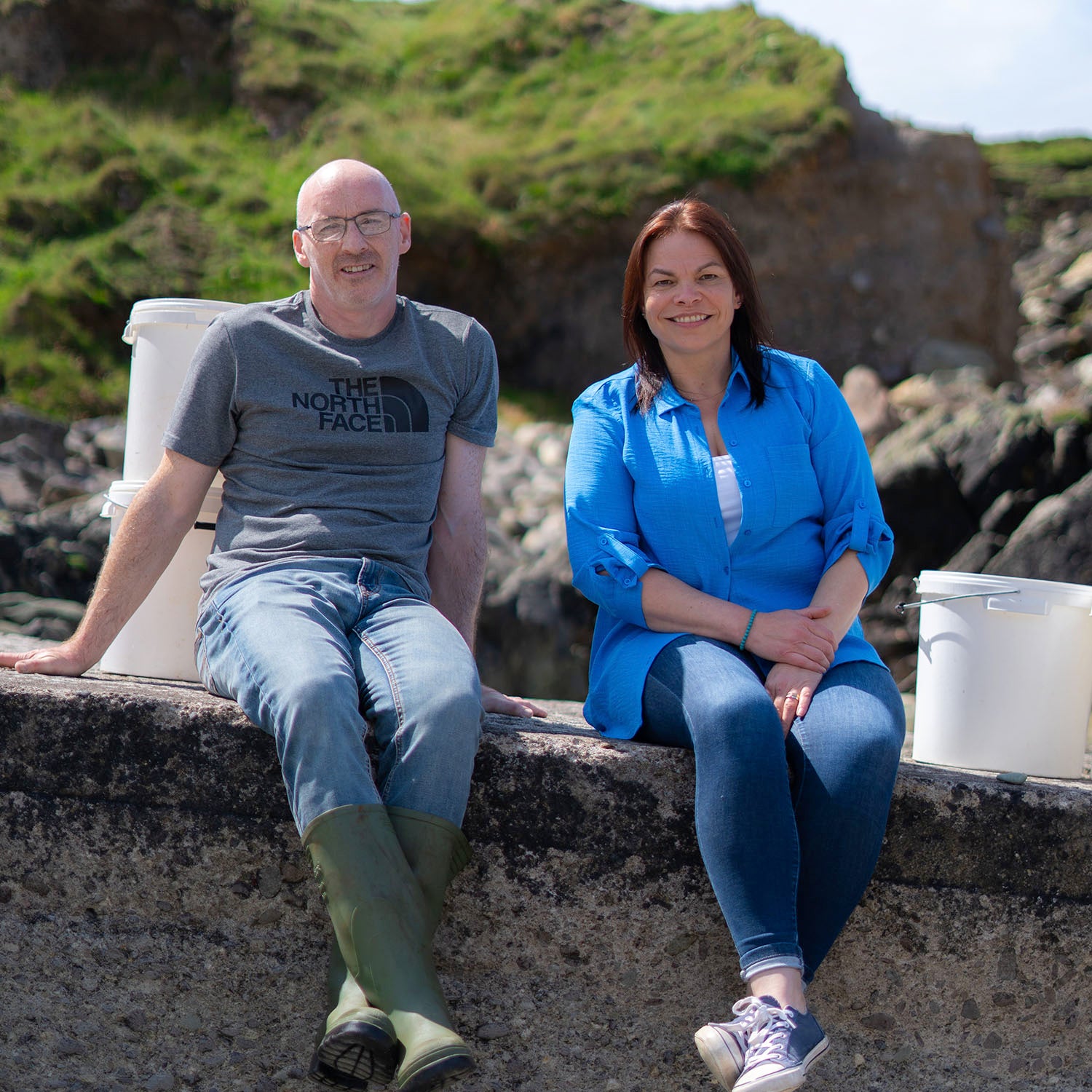 Cooking Up a Story
West of Dingle Sea Salt is made up of Brian & Marie - yep, just the two of us.

We're a married couple, based in Ireland's most westerly peninsula in Dingle, who came up with the mad idea of harvesting sea salt! And the idea for the business didn't just pop up overnight! No no no, this has been 25 years in the making. Brian is a chef with an impressive international culinary career to date and Marie is a talented potter. Both of us are passionate about our craft so merging our passions into one product just made sense to us. We've revived old hand harvesting traditions to produce something new, contemporary and downright special! Well we think so anyway… !
We look to our community and the landscape around us to help us craft our range. Community connection is really important to us, from the people we work with to the people we sell to, and everyone in between. We value each and every interaction and believe it's this connection that makes our salt so darn good. Unrefined and naturally pure, we're changing the game in salt with our wild and wonderful sea salt flavours!
An bheirt againn féin atá ann – Brian agus  Marie. Táimid ag cur fúinn i gCorca  Dhuibhne agus tá an tuairim don ngnó seo  sa cheann againn le fada an lá! Is chef é  Brian atá tar éis a bheith ag obair go  hidirnáisiúnta agus is potadóir cumasach í  Marie. Is breá linn beirt ár gceird agus ba  rud nádúrtha dúinn é an dá cheann a  nascadh le chéile. Tá athbheochan déanta  againn ar an seanashlí chun salann a bhailiú  agus táirge nua agus ana-speisialta déanta  againn! Sin é is dóigh linne, ach go háirithe!
Is mór againn an ceangal atá againn leis an  áit ina mhairimid agus leis an bpobal ina mairimid. Tá an nasc atá againn leis na  daoine go mbímid ag obair leo, na daoine  go mbímid ag déanamh gnó leo agus gach  aon duine idir eatarthu, ana-thábhachtach  dúinn. Agus tá a rian san ar an salann a  chuirimid ar fáil ar deireadh. Salann simplí,  iomlán nádúrtha le blasanna iontacha air.  Sin dealramh!
Part of the Kitchen Cupboard
West of Dingle Sea Salt is as pure & fresh as nature intended, retaining all the healthy benefits without the nasty additives or chemical processing associated with your usual table salt. Our salt is special but not just for special occasions. We create it to be part of the kitchen cupboard and it goes with just about everything!

Our salt is designed to go together so one plate can have different salts and multiple flavours - making mealtimes far more interesting don't you think? We also try to be as sustainable as possible in everything from production to our plastic free packaging. We use minimal processing and when it comes to harvesting we only take what we need and nature does the rest. Pure & Simple.
Nothing Added, Nothing Taken Away
Location, location, location!

We collect, filter, evaporate, sift, infuse, prepare, blend, pack and label all our products by hand along the rocky shores of the Dingle Peninsula. We collect our crystal clear, sea water at high tide from Cuas na nEighe, the most westerly point in Ireland.

The Magic Process

It then gets double filtered before it's gently heated using our traditional fire evaporation method, ensuring any harmful bacteria is eliminated. Hand harvesting our sea salt flakes has to be the most satisfying part of the job. We pour the filtered brine into our crystallisation pan, then we let the magic happen, before returning some time later to harvest and dry the delicate flakes.

The Final Result

It's a very slow process but we think it's worth every minute. With minimal processing we are doing our part to reduce our impact on the environment.